Principal Investigator – Archaeologist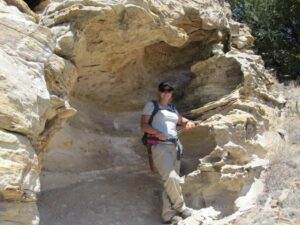 Alycia has seven years of experience in archaeology and cultural resource management with the following skills:  Phase I, II, and III archaeology; architectural property survey; compass/map reading; Trimble/GPS (Terra Sync); shovel probe testing; Ground Penetrating Radar (GPR); Magnetometry; Resistivity Meter; metal detecting; artifact cleaning, classification, and marking; artifact cataloging; historical document transcribing; Total Station; archaeological photography; paleontological excavation; working alongside with Tribal Representatives; Unexploded Ordinance Training (UXO); and erosion control.
She has worked on numerous projects across the Midwest and Central U.S. including pipeline survey, transmission line survey, over 20,000 acres of U.S. Forest survey, and coal mine Phase I and Phase II survey.  Other project survey task experience includes:  identification and recording of prehistoric and historic sites, Phase I contour field surveying; lithic and artifact identification; collection and processing; ground stone analysis; rock shelter recording; site mapping using a Trimble/GPS; shovel probe excavations; archaeological photography; rock art panel drawing and recording; and final report writing and interpretation.