Molly Hacker – Botanist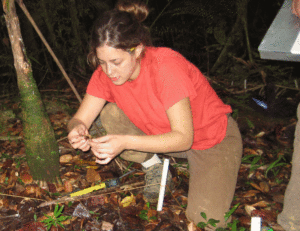 Molly has 12 years of experience in ecological research, plant identification, and applied restoration techniques in a variety of habitats in the Great Lakes Region of the Midwest and northern Gulf of Mexico in the southeastern US, with a focus in wetland environments. Her research experience and interests include studies in seed banks, plant community dynamics, and disturbance ecology. She has experience conducting floristic inventories, vegetation surveys, and community characterization and assessments, as well as monitoring and mapping of both non-native invasive species and rare, threatened and endangered plant species.
In addition to ecological and botanical experience, she works routinely in environmental regulations and compliance, performing wetland delineations and monitoring for wetland mitigation and restoration. She has seven years of work experience in habitat restoration and management that include applied techniques in invasive species control and revegetation, prescribed fire application, hydrology monitoring and mapping, vegetation surveys, greenhouse and nursery management, plant installation, seed mix design and rare plant monitoring. She has trained and led restoration crews, interns and volunteers in wetland restoration practices, and actively engages in environmental outreach and stewardship.