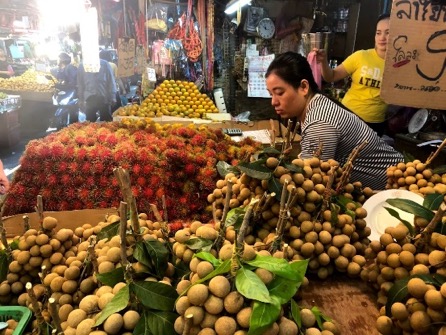 "Fruits" of Thailand: Molly Hacker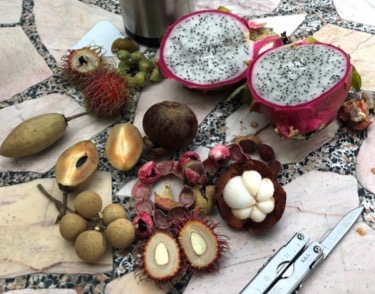 In January-February 2019, I got a chance to taste and experience the local seasonal fare of Thailand.  The diversity is unreal – biologically, ecologically, and culturally.
This piece is vaguely reflective of the work we do at Orbis – we travel to a site, we observe, and we document.  It is vaguely reflective of our clients – our clients are agencies, non-profits, energy companies and individuals.  We don't forget that all these entities are made up individuals – individuals, like us, who are interested in things and stimulated by experiences. Mostly, although my experience took place over 8,500 miles away, this piece is relevant because it reflects who we are as a company and as people.
So, who are WE?  We are archaeologists, wildlife biologists and ecologists – we're people interested in things and who seek stimulation in our experiences, and we love our work.  We travel for work and pleasure – our flexible work policy enables us to continue to be who we want to be and where we want to be.
My focus here is on some of the fruits I encountered in Thailand, and put into context with images relating to space and time.  Some of these fruits were available at local markets, some of them were experienced by being at the right place at the right time.
To learn more about the wonderful fruits Molly encountered during her trip click here.