How we run a virtual team
When we first started Orbis in 2014 we decided to setup as a virtual team – in part to control costs, and because so much of our work involves outdoor fieldwork. We also have little need for large equipment storage or infrastructure. Everyone thought the next logical step would be to move into an office building in a year or two.
But we quickly grew to appreciate the idea of our commute as merely a short walk down the hallway and the freedom and flexibility that comes along with that. Orbis is now well into our third year, and we've grown, with staff now living in six cities across three states. I'll talk more about how we continue to run a virtual team, but first a little background.
Author and finance advisor Ramit Sethi talks about striving to live a "Rich Life" – a philosophy based on the idea that once basic needs are met, real fulfillment comes from focusing your efforts on the things in your life that you personally find enjoyable, and cutting out the things you don't love. By consciously spending your time and money in areas you find enjoyable (again after meeting basic needs), you can put your energy toward the activities that truly make you happy.
Personally speaking, the work structure at Orbis has provided me the freedom to do just that. It allowed me to attend my daughter's end-of-summer Drama Camp performance, and let me meet an old high school friend for lunch in just the last few weeks. My colleagues could each share similar stories.
It's important to note that this flexibility isn't only reserved for these sorts of events – our work structure also allowed me to deal with cleaning up damage from a historic rain event. It's all good now – but we may be putting the house on stilts from now on…
Now, don't get me wrong, consulting often requires long or unusual work schedules. Our first day in the field was a Saturday and sometimes we work long or odd hours (Jeremy Sheets, our bat biologist, spends much of the summer working nights). So we need solid systems in place to allow smooth communication and file management. I'll talk about a few of the tools we use here:

Meeting Rhythms
Ok, ok, I know. A lot of people really dislike meetings. But if done properly, they can save a lot of heartache. We employ the practice of meeting rhythms to keep everyone informed and engaged. We have a short (5-10 minute) daily check-in over Google Hangouts to discuss what each person is working on for the day, noting if they need any help or have help to offer.
We start each week with a longer Monday morning meeting (30-45 minutes). Our staff in northern Indiana often meet in person, while the more remote staff use the Google Hangouts. During this meeting we discuss good news from the previous week, review basic financials, and share any bigger picture information relevant to the company as a whole. We also have quarterly and annual meetings where we review progress on larger strategic issues and goals, both personal and organizational.
Communication
You know that feeling when your inbox shows hundreds of unread messages? Ugh, it's overwhelming. The last thing you want to do when you return from a vacation is to plow through a ton of emails, many of which will turn out to either not be directly relevant to you, describe an issue that's already resolved, or both…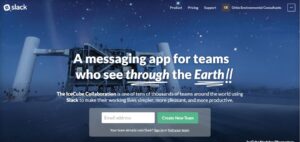 Well, we've managed to cut email dramatically by using Slack. By creating channels for individual projects, we've eliminated those dreaded email threads and "reply all" bombardments. There are also options for channels for teams like GIS, direct messages to individuals, or a general channel for broader communication. It's a great tool to allow employees to communicate about a project without being in the same room, or even the same timezone. It has a great search function too. There's a premium version with extra features, but the free version is robust enough for most small businesses.
These are just a few of the tools we use at Orbis to allow employees to work at home – this and other technology provides the flexibility for what we need now and as we grow in the future. This flexibility allows us to focus our efforts on doing great, interesting work, while avoiding activities that detract from those efforts – like soul crushing commutes. It turns out that many recent studies confirm what any seasoned commuter might suspect – long commutes can measurably and significantly affect quality of life, happiness, and health. A shorter commute can even provide the happiness equivalent of a $40K salary bump!
Contact me at rduddleson@orbisec.com with any questions or comments. I love talking about Orbis and our approach to helping improve our employees' lives. (By the way – we're hiring).