Wetland Plant Identification Course – Du Page County, IL
When: June 5-7, 2019
Where: DuPage County, Illinois
Instructors: Scott Namestnik and Christopher Benda
Fee: $600
Orbis Environmental Consulting botanist Scott Namestnik will be joined by botanist Christopher Benda to lead a three-day wetland plant identification course in DuPage County, Illinois on June 5-7, 2019.  The course is hosted by DuPage County Stormwater Management and is certain to fill up quickly.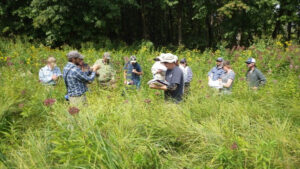 Participants should dress for wet/muddy field conditions and bring:
Pencil
Hand lens
Small ruler
Field notebook
Camera
Plenty of water
Sturdy footwear that can get muddy (knee boots recommended).
Sunscreen and insect repellent
Stool or folding chair (optional)
Field guide(s) of choice (optional)
Lunch may be purchased at nearby restaurants or participants may bring their own.
To Register:
If you're interested in attending this course, please fill out this registration form and email it to snamestnik@orbisec.com.
Our Instructors:
Scott Namestnik: Scott directs ecological services for Orbis. Scott has 20 years of experience managing projects and conducting floristic inventories, quantitative flora surveys, plant community mapping, invasive species surveys and mapping, and plant species of concern surveys and mapping. He is experienced with setting up and conducting mitigation wetland monitoring projects and has conducted numerous aquatic plant surveys.
Another aspect of Scott's services is providing plant identification training workshops. In addition to his experience focused on the flora, Scott conducts wetland delineations and other site assessments and participates in avian and other wildlife surveys. Scott prepares natural area management plans and provides other technical writing services. He is recognized for his expertise in Midwestern/Great Lakes terrestrial and aquatic vascular plants, and his written work on the flora has appeared in several peer-reviewed journals including The Michigan Botanist, The Great Lakes Botanist, Phytoneuron, Proceedings of the Indiana Academy of Science, and Rhodora.
Scott has presented research on various topics at numerous conferences. He currently serves as a board member for NatureCITE, Indiana Native Plant Society (North Chapter) and South Bend-Elkhart Audubon Society, is on the advisory council for Shirley Heinze Land Trust and the planning committee for the Indiana Dunes Birding Festival, and is active with the Indiana Native Plant Society (Journal Team Leader) and the Indiana Academy of Science (member of the Biodiversity and Natural Areas Committee and previously Vice-chair and Chair of the Plant Systematics and Biodiversity section).
Chris Benda: Chris is a botanist and past president of the Illinois Native Plant Society (2015-2016). A native of Minnesota, Chris moved to Illinois from California in 2004 and received a Master's Degree in Biology from the University of Illinois at Urbana/Champaign in 2007. He was a regional ecologist for the Illinois Natural Areas Inventory Update in southern Illinois from 2008-2012. Chris teaches the Flora of Southern Illinois at Southern Illinois University in the summer and a variety of classes at The Morton Arboretum. He is an accomplished photographer and author of several publications about natural areas in Illinois.